We're Getting Mutants in the MCU - The Loop
Play Sound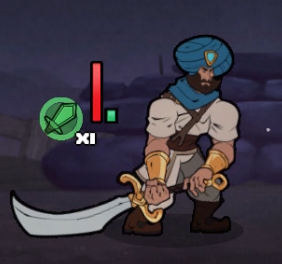 Zakwas
Role: Bodyguard
Base Health: 405
Base Stamina: 1
Hits per combo: 1
Starting Spell: Icicle
Starting Item: Huge Sabre
160-190 damage per hit
60% faster melee recharge
If enemy is hit on the way back after attack: +50% damage for next melee combo
Slot Bonuses:
No slot bonus
No slot bonus
Prolongs freeze duration
No slot bonus
Using a buff on a hero buffs your whole party
Zakwas is a bodyguard and the fourth unlocked character.
Zakwas comes from an eastern faraway land where he was trained to act as a bodyguard for the emperor. Unfortunately the emperor was assasinated on his watch, this forced Zakwas to flee the loyal court and his homeland. Luckily Zakwas soon encountered the Epic Band of Heroes, promises of adventure, companionship, wealth and safety allured Zakwas to join the hero company. Zakwas is sure that THEY are coming. He has no idea who "they" exactly are and why would they attack, but no one can blame him for not being ready. He is always worried about the safety of the group and can sometimes be a little fidgety.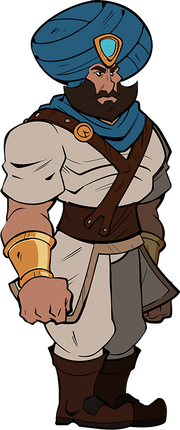 Alternate Forms
[
]
Form B
Zakwas
Role: Bodyguard
Base Health: 465
Base Stamina: 1
Hits per combo: 1
Starting Spell: Comet
Starting Item: Executioner
190 damage per hit
55% faster melee recharge
If enemy is hit on the way back after attack: +60% damage for next melee combo
Slot Bonuses:
No slot bonus
No slot bonus
Prolongs freeze duration
No slot bonus
An additional extra projectile is fired
Form C
Zakwas
Role: Bodyguard
Base Health: 530
Base Stamina: 2
Hits per combo: 1
Starting Spell: Lich's Curse
Starting Item: Abaddon
200-250 damage per hit
50% faster melee recharge
If enemy is hit on the way back after attack: +70% damage for next melee combo
Slot Bonuses:
No slot bonus
No slot bonus
Prolongs freeze duration
No slot bonus
Projectile spells will hit additional random target
Form D
Zakwas
Role: Bodyguard
Base Health: 590
Base Stamina: 2
Hits per combo: 1
Starting Spell: Doom
Starting Item: Armaggedon
1-500 damage per hit
45% faster melee recharge
If your melee hit deals less than 150 damage: next backstab deals additional 150 wind damage
Slot Bonuses:
No slot bonus
No slot bonus
Prolongs freeze duration
No slot bonus
Buffs are reapplied after use
Characters

3x Hitters

2x Hitters

1x Hitters