We're Getting Mutants in the MCU - The Loop
Play Sound
Roho
Role: Robot
Base Health: 800
Base Stamina: 3
Hits per combo: 1
Starting Spell: Airburst
Starting Item: Golem's Cannon
100-160 damage per hit
45% faster melee recharge
Spell casting causes next shot to burn target for 4 sec
Immunity: fire and poison
Slot Bonuses:
No slot bonus
Wind spells knock target further back
No slot bonus
Increases area size of area effects
Projectile spells will hit additional random target
Roho is a robot and the sixth unlocked character.
The Epic Band of Heroes received Roho the Robot as inheritance, after having done a good deed to an old and dying sorcerer-engineer far, far, far in the south. At first all the Heroes thought Roho was simply a soulless construct, but gradually everyone began to be be aware that Roho had a mind of its own. This unnerved some of the Heroes, and fascinated others. Unfortunately not much else is known about Roho other than than the fact that roho likes baby animals and music.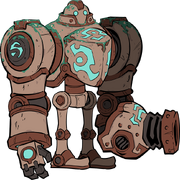 Alternate Forms
[
]
Form B
Roho
Role: Robot
Base Health: 840
Base Stamina: 4
Hits per combo: 1
Starting Spell: Orbital Voyage
Starting Item: Dragonfire Cannon
140-140 damage per hit
50% faster melee recharge
Spell casting causes next shot to scare target for 3 sec
Immunity: fire and poison
Slot Bonuses:
No slot bonus
Wind spells knock target further back
No slot bonus
Increases area size of area effects
An additional extra projectile is fired
Form C
Roho
Role: Robot
Base Health: 915
Base Stamina: 4
Hits per combo: 1
Starting Spell: Draining Wind
Starting Item: Beam Gun
140-195 damage per hit
55% faster melee recharge
Spell casting causes next shot to charm target for 6 sec
Immunity: fire and poison
Slot Bonuses:
No slot bonus
Wind spells knock target further back
No slot bonus
Increases area size of area effects
Using a buff on a hero buffs your whole party
Form D
Roho
Role: Robot
Base Health: 1000
Base Stamina: 5
Hits per combo: 1
Starting Spell: Vortex
Starting Item: Robocannon
90-290 damage per hit
60% faster melee recharge
Spell casting causes next shot to poison target for 10 sec
Immunity: fire and poison
Slot Bonuses:
No slot bonus
Wind spells knock target further back
No slot bonus
Increases area size of area effects
Buffs are reapplied after use
Characters

3x Hitters

2x Hitters

1x Hitters