We're Getting Mutants in the MCU - The Loop
Play Sound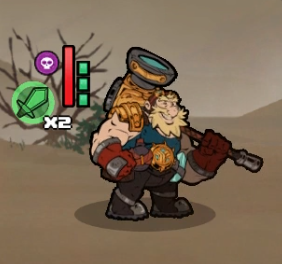 Khar
Role: Dwarf
Base Health: 150
Base Stamina: 3
Hits per combo: 2
Starting Spell: Poison Dart
Starting Item: Dwarf's Hammer
1-50 damage per hit
On hit: Recharge a random spell by 2 seconds
Immunity: Poison
Slot Bonuses:
No slot bonus
Increases area size of area effects
Wind spells knock targets further back
Prolongs freeze duration
Using a buff on a hero buffs your whole party
Khar is a Dwarf and the fifth unlocked character.
Khar is the youngest son of a wealthy dwarven merchant so he has a knack for finding and hoarding valuable goods and treasure. Customer service however, was never Khar's strongest skill. His farther was actually quite relieved when his lastborn announced his intentions to find the legendary dwarwen gem, The Mountain Tear. The search took Khar to the faraway lands and unexplored places. Khar joined the Epic Band of Heroes in the hopes if finding adventures and Wealth. The Mountain Tear however has remained hidden from Khar to this day.
Alternate Forms
[
]
Form B
Khar
Role: Dwarf
Base Health: 215
Base Stamina: 3
Hits per combo: 2
Starting Spell: Poisonstrike
Starting Item: Spiky Ball
1-60 damage per hit
On hit: Recharge a random spell by 3 seconds
Immunity: Poison
Slot Bonuses:
No slot bonus
Increases area size of area effects
Wind spells knock targets further back
Prolongs freeze duration
An additional extra projectile is fired
Form C
Khar
Role: Dwarf
Base Health: 260
Base Stamina: 4
Hits per combo: 2
Starting Spell: Poisoned Potato
Starting Item: Rock on a Stick
1-70 damage per hit
If your melee hit deals less than 35 damage: recharge all spells by 6 seconds
Immunity: Poison
Slot Bonuses:
No slot bonus
Increases area size of area effects
Wind spells knock targets further back
Prolongs freeze duration
Buffs are reapplied after use
Form D
Khar
Role: Dwarf
Base Health: 345
Base Stamina: 4
Hits per combo: 2
Starting Spell: Certain Death
Starting Item: Miner's Pickaxe
1-90 damage per hit
If your melee hit deals less than 45 damage: recharge a random spell by 20 seconds
Immunity: Poison
Slot Bonuses:
No slot bonus
Increases area size of area effects
Wind spells knock targets further back
Prolongs freeze duration
Projectile spells will hit additional random target
Characters

3x Hitters

2x Hitters

1x Hitters