We're Getting Mutants in the MCU - The Loop
Play Sound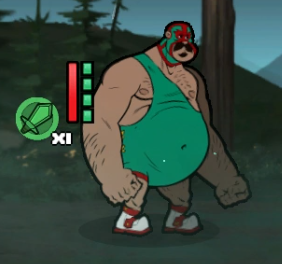 Florencio de la Torre, "El Antropólogo"
Role: Wrestler
Base Health: 380
Base Stamina: 4
Hits per combo: 1
Starting Spell: Thunderstrike
Starting Item: Clenched Fist
100-200 damage per hit
55% faster melee recharge
Casting any spell instantly recharges your melee attack
Slot Bonuses:
No slot bonus
Lightning chains arc further
No slot bonus
Poison damage is dealt twice as often
An additional extra projectile is fired
Florencio is a wrestler and the second unlocked character.
When Florencio was young he dreamed of becoming an anthropologist, to pursue his dream he started to study anthropology in la Universidad. Unfortunately the university was ruined when the evil sorcerer, el Primer Ministro Juan Batidor, stole all the tax money that was due to go to la Universidad. After this unfortunate event Florencio became a traveling wrestler, dubbing himself as "El Antropólogo". In his travels he encountered the Epic Band of Heroes and joined them to fight injustice. He also saw a possibility to loot all the wayward treasure chests on random roads in the wilderness, he was hoping to donate all the money to the la Universidad so it could be restored to its glory once more.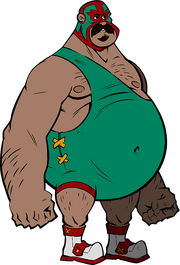 Alternate Forms
[
]
Form B
Florencio de la Torre, "El Antropólogo"
Role: Wrestler
Base Health: 420
Base Stamina: 5
Hits per combo: 1
Starting Spell: Electrophobia
Starting Item: Brass Knuckles
160 damage per hit
40% faster melee recharge
Spell casting increases melee damage by 50 for next melee combo. This effect can stack multiple times
Slot Bonuses:
No slot bonus
Lightning chains arc further
No slot bonus
Poison damage is dealt twice as often
Using a buff on a hero buffs your whole party
Form C
Florencio de la Torre, "El Antropólogo"
Role: Wrestler
Base Health: 495
Base Stamina: 6
Hits per combo: 1
Starting Spell: Thor's Anger
Starting Item: Metal Gloves
150-230 damage per hit
65% faster melee recharge
On kill: gain 8 extra souls
Slot Bonuses:
No slot bonus
Lightning chains arc further
No slot bonus
Poison damage is dealt twice as often
Buffs are reapplied after use
Form D
Florencio de la Torre, "El Antropólogo"
Role: Wrestler
Base Health: 570
Base Stamina: 6
Hits per combo: 1
Starting Spell: Thunder Portal
Starting Item: Boxing Gloves
1-440 damage per hit
50% faster melee recharge
If your melee hit deals less than 150 damage: Charm a random enemy for 5 seconds
Slot Bonuses:
No slot bonus
Lightning chains arc further
No slot bonus
Poison damage is dealt twice as often
Projectile spells will hit additional random target
Characters

3x Hitters

2x Hitters

1x Hitters